Layout Tours allow for the viewing of layouts as well as additional social interaction.  Even if you've seen the layout before, a Layout Tour provides a setting to meet and talk with new and existing friends.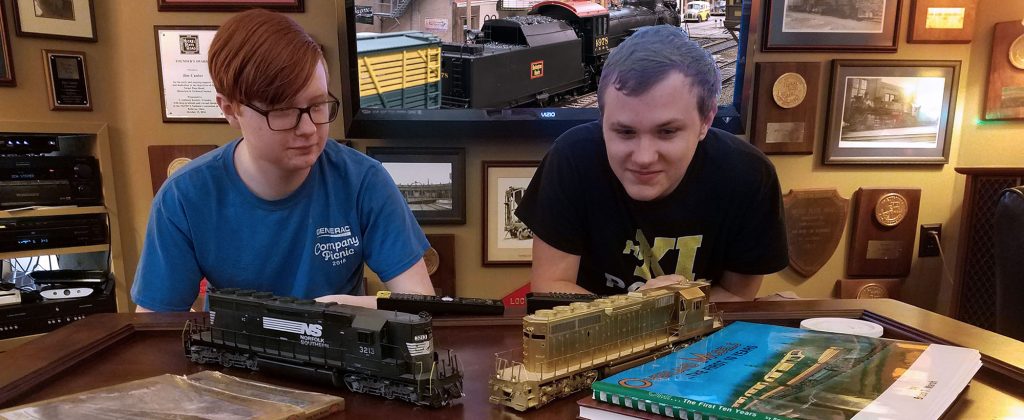 2023 March "O" Scale Meet – Layout Tour Schedule
Check back often for updates
Last Updated: September 8, 2022
Thursday March 16, 2023 Noon – 5:00 PM OPERATING SESSION
Saturday March 18, 2023 7:00 PM – 10:00 PM OPEN HOUSE
Ted Schnepf – Elgin, IL
NEW FOR 2023: Full Length Session on Thursday in place of short Friday session.
Reservations Required for operating session, but not for the Open House Saturday.
Sign up information will be available soon.
2-RAIL 4,100 Sq Ft Milwaukee Road Dubuque / Iowa and Dakota Divisions
60% scenicked mult-ideck layout designed for operation. Northeast Iowa along the Mississippi River, in 1954 with a 900 foot mainline. Five yard jobs and various local switching jobs. Passenger trains and through-freights hauling a variety of products, such as meat and perishable goods, grain, coal, and oil. 1:2 SLOW clock. NCE DCC Control system. Operations via Train Dispatcher Authority using telephone line and train order signals. Car movements handled by car cards. Ideal operations require 20 operators.
More information: http://railsunlimited.ribbonrail.com/FoxValley/layout.html
Thursday March 16, 2023 10:00 AM – 4:00 PM
Friday March 17, 2023 10:00 AM- 3:00 PM
Dan Dawdy – Dwight, IL
Richmond, Danielle & Southern.
The history of the RD&S Railroad. Well, there is none. It was, is and always will be the summer of 1947 on the RD&S. So let's just stipulate that the Richmond, Danville & Southern exists, running from Richmond, VA to Memphis, TN..
All DCC with sound running JMRI turnouts and wi-fi and the one and only "widowmaker" or as we call it, "The Tennessee Saluda". Bringing a DCC locomotive with you? Try it out against the grade.
Saturday March 18, 2023 6:00 PM – 9:00 PM
Carey Williams – Glenview, IL
2-Rail and OUTSIDE Third Rail. Vintage O Scale collection and layouts pre 1955. Many examples of early manufactured and scratch-built O Scale trains from the 1920's to mid 1950's.
Saturday March 18, 2023 4:00 PM – 8:00 PM
Sunday March 19, 2023 2:00 PM – 5:00 PM
Steve Karlson – Dekalb, IL
2-Rail. The Gloucester Branch is a layout under construction of the Gloucester Branch of the Boston and Maine, but under different ownership, and with some modeler's license in the lineside industries.